As seen on Fox & Friends – December 5, 2021
Pauli and I are so excited for you to to continue following us on this journey of building Pinhoti Peak, and here's the clip of our recent holiday check in on the morning show Fox & Friends:
Even though we've done hundreds and hundreds of projects, we are learning so much while building this modern mountain cabin on top of Fort Mountain in North Georgia. We had so much fun putting together this detailed, model of the house:
Here are some of our favorite brands that you can encorporate into your next project for huge impact…and most are DIY friendly!
*Housekeeping Note: The products featured below are compensated placements and this post may contain affiliate links. We may earn a small commission when you make a purchase through one of our links at no additional cost to you. We only recommend products we have personally used and while some of the pics and stats may come from the manufacturer, all of the tips and opinions are our own.
---
Ok, so building and remodeling right now is crazy. Lead times are insane…so when I found RTA Cabinet Store with their Quick Ship program…my mind was blown! RTA guarantees that select lines of cabinets will ship in 3 days or less!!!
RTA stands for Ready to Assemble. And now RTA has partnered with the BILT APP to bring customers the best possible experience and confidence to assemble their cabinetry with the easy to follow step-by-step narrated and animated instructions. A first in this industry and 24 skus in the BILT program, this partnership between BILT App and RTA Cabinet Store makes the process of new cabinets easy from start to finish!
You might have the misconception that DIY friendly cabinets with a rapid delivery guarantee would have to sacrifice on quality…but you would be wrong! These cabinets are TOP Quality. They are solid Plywood boxes, solid wood face-frames and doors, dove-tailed drawers, and both the drawers and doors have soft-closing glides or hinges.
Cabinetry can be an overwhelming, excessively expensive, and complex part of new construction or renovation project…but RTA Cabinet Store can certainly simplify and keep you in budget!
---
Wetwall™ Water-Proof Wall Panel System makes it easy to create spa-worthy retreats that deliver high-end style without the need for disruptive demolitions. Instead of tile and grout, Wetwall™ is a single panel that's water-proof, stylish, and simple to install.
Wetwall is unbelievably easy to work with – with simple tongue-and-groove installation, it can be easily installed in as little as 2.5 hours and applies over gypsum board, green board and fiberboard. It can even be installed over existing tile. The grout-free surface wipes clean with soap and a damp cloth for lasting beauty and easy maintenance. The water-proof system also features antimicrobial protection and scratch & scuff-resistant technology for superior durability.
Available in a collection of on-trend and in-demand designs, Wetwall is engineered for easy installation, lasting beauty, and low cost of ownership.
---
When it comes to building or remodeling a backyard deck, the railing is the finishing touch that can bring character and breathe new life into an existing outdoor space. In fact, due to their safety considerations, railings are often one of the most important parts of a deck. At the same time, homeowners also want a railing that is stylish and complements their home's architecture.
Alternative infill solutions are growing in popularity as architects, builders and homeowners look for creative ways to personalize and differentiate spaces. Beyond being functional, infill can add an element of style that ties together the outdoor living space and the home's design aesthetic. Feeney offers a variety of railing infill options that deliver style, function and safety.
---
Tangle Pools is an innovative compancy that converts shipping containers into pools! The shipping containers make it easy to install, maintain, and fun for everyone.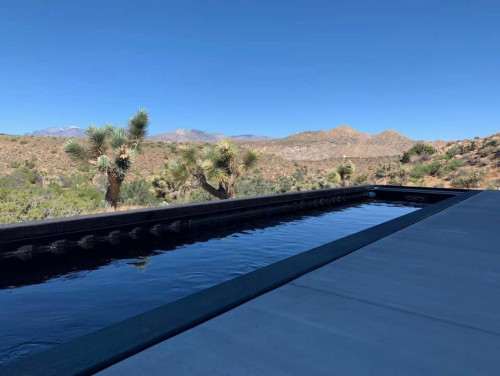 Tangle Pools feature a top-of-the-line Pentair 200,000 BTU heater (or 400,000 BTU depending on size), pump, LED light, stairs, water-safe liner, and a robust urethane exterior. The pools come in six standard shipping container sizes to make it easy to ship, install, and relocate (8′ & 12′ wide by 20′, 30, or 40′ long) with a varieity of optional upgrades like lighting, covers, UV sanitizing sytems, endless swim jets and see through window to maximize your backyard fun.
---
These next two products from GP are going to ensure that the building envelope of Pinhoti is impenetrableto weather.
DensElement Barrier System frees you from manually applying a WRB/AB over sheathing on your jobsite. Resisting normal weather conditions and preventing uncontrolled air movement, it eliminates an entire step in the installation process and helps keep you on schedule.
ForceField Weather Barrier System is the integrated WRB sheathing system for walls and sloped roofs that helps you dry in homes faster and reduces the number of trips around the building compared to traditional systems.
Rewatch this week's Fox & Friends segment here.
Don't forget to follow us on instagram (@WadeWorksCreative, @ChipWade) and Facebook (@WadeWorksCreative and @ChipWadeDesign).